Performance Bond – Performance Guarantee Procedure
Bronze Wing Trading LLC can support your exports or projects by providing Performance bond – Performance Guarantee or Bid Bond on behalf of the supplier/Contractor. And in favor of the buyer/developer to avail trade deals or projects.
Below is the simple process to avail PB/PG from BWT:
Supplier / Contractor inform BWT of their need. They should also provide a pro-forma invoice or buy and sell agreement or contract of their deal.
BWT will carry out a due diligence of their deal between the parties engaged. Then, will inform the concerned parties about the approval or refusal of the PB/PG request.
After approval of the PB/PG the supplier / contractor will sign the service agreement with us. They will also be informed about our admin charges.
Once the service agreement is signed & after receipt of admin charges. Then, BWT will start work on their PB/PG. We will also request documents related to their deal.
After receipt of the documents and the PB/PG issuance fee charges. BWT will provide the required PB/PG from their account with good rated European bank. This PB/PG will be on behalf of Supplier/Contractor and in favor of buyer/developer to complete their deal.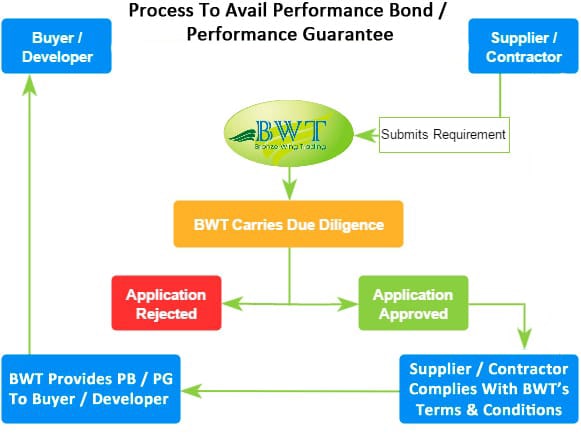 Performance Guarantee Procedure on Video
Performance Bonds Information
Performance Bonds also known as Performance Guarantees, PB/PG, Bid Bond or Surety Bond. PB/PG is a financial tool that act as guarantee to secure any claim by the buyer to the seller. In case of default in performance of supply huge quantity of goods as per the terms of contract.
Also, this Performance Guarantee can act on behalf of contractor to secure any claim by the developer in case of non performance as per their agreed terms.
Performance Bonds are often use in the construction and to develop the properties. Where an owner or investor may need the developer to assure that contractors should provide such bid bond. This is to guarantee the value of work won't effect in case of any unfortunate event. Events such as bankruptcy of the contractor and etc.
At the same time, Performance Guarantees is require in favor of a buyer to acquire large contracts of goods supply. And also, to obtain the Letter of Credit (LC – MT700) from the buyer's company.
To get such Bid Bond or Guarantee Bond from traditional sources can be tough. As the process is slow and also ties up working capital. Hence, Bronze Wing Trading LLC realize these problems. Thus, being a direct provider, we provide these Bonds and Guarantees as simple as possible. And in fact, it is without the need to tie up valuable cash funds.
Types of Bank Guarantee:
Tender Bid – Tender Bond (TBG)