Advance Payment Guarantee Procedure
Bronze Wing Trading LLC provides Advance Payment Guarantee on behalf of Contractor / Supplier which enables them to acquire the advance payments as per their contract.
To get APG, follow the below procedure:
The Client will send the pro-forma invoice or buy & sell agreement of their trade deal. Also will provide details of their APG application.
BWT will review and carries out due diligence of the client's APG deal. As a result, will advise the client about acceptance or denial of their APG request.
Client will then sign a service agreement and pay the admin charges after approval.
Once they sign the service agreement and pay the admin charges. BWT will then start working on the client's APG deal.
At the final stage, upon receipt of the documents and issuance fee charges. BWT will act promptly and provide APG from one of the European bank accounts. This APG will be on behalf of Contractor / Supplier and in favor of Developer / Buyer.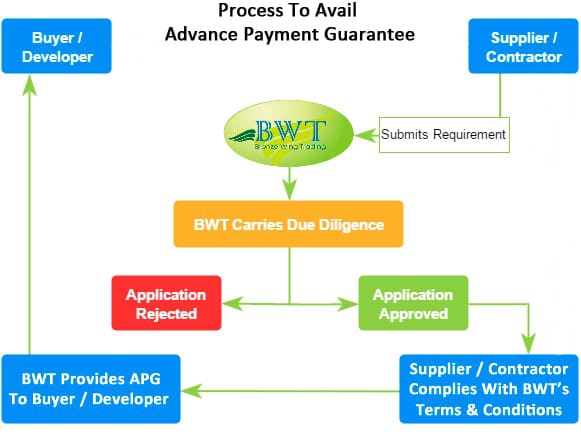 Advance Payments Procedure on Video
Advance Payment Guarantees Information
The Advance Payments Guarantee also known as Payment Guarantee. This Guarantee is useful for a developer and as well for a buyer's company. When they make upfront payment to the contractor / seller. In that case, the developer / buyer get a bank guarantee to secure their payment. Also, this APG is payable on first demand. This guarantee value also reduce concurrently as per the progress made under the subject project by the contractor. At the same time, APG value keep reducing upon completion of their contract terms by the seller.
In trading markets, APG is used to secure any claim by the buyer on the seller for refund. In case, if the seller fails to supply the goods as per their contract terms. As well as, APG secure buyer's down payment on the contract price before supply of the goods.
APG not only allows the exporters / contractors to receive down payment as per the terms of their contract. But also covers the importers / developers in the event of a default during that tenure.
In short, Bronze Wing Trading as a direct provider of Advance Payments Guarantee will assist the sellers and contractors. So that they can get the advance payments as per their contract.
Types of Bank Guarantee:
Performance Bond – Performance Guarantee (PB/PG)