Letter of Comfort – Bank Comfort Letter Procedure
Bronze Wing Trading can provide Letter of Comfort – Bank Comfort Letter (BCL MT799). That will be on behalf of purchaser's company and in favor of the seller. Which will show buyer's company financial capability to purchase the huge quantity of products.
Below is the step by step procedure to get Bank Comfort Letters from BWT:
Buyer submits their request with ICPO, FCO, pro-forma offer or buy and sell contract of their trade deal.
BWT will perform due diligence on their trade deal between buyer & seller. And also inform the related parties about the approval or rejection of their BCL request.
Upon approval of BCL MT799 application, the buyer needs to sign a service agreement. And also pay the admin charges to start work on their transaction.
After signing the service agreement, the client needs to provide certain documents and also pay the BCL issuance fee charges.
Upon receipt of related documents and the charges. We will act with our bank to provide BCL MT799. This MT799 will be on behalf of the buyer and in favor of their supplier. Thus proving buyer's financial ability for closing their trade deal.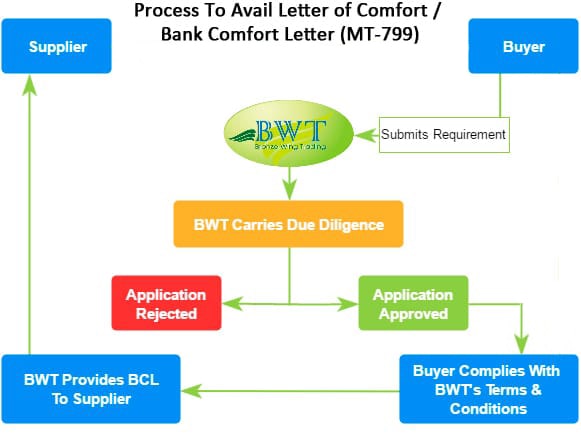 BCL MT799 Procedure on Video
Bank Comfort Letters Information
BCL is a written undertaking by a bank on behalf of its client that assures the financial strength of their company. It is often used by the importer to demonstrate their financial ability towards the exporter. Eventually, it shows the buyer is capable to purchase the products and maintain their financial commitment in time.
Today's time, suppliers want to ensure that they are working with a financial competent trader. In other words, they look for traders on whom they can trust. When engaging in trade deals that involve large quantity of supplies. Hence, suppliers usually ask for BCL to safeguard the validity of their trade deal.
That's how, the comfort level between buyer and supplier firms build. Thus, by presenting a BCL, buyer shows their fiscal affluence to execute the transaction without any hassle.
BCL by no means is a payment assurance by the bank. It is a Swift message from the buyer's bank that asserts the buyer's track record with their financial standing.
If in case, you are in the middle of an important trade deal and need a BCL. Then, we can surely assist you by providing it from good rated European Bank. In short, our bank can provide a notification to the supplier on your behalf. Which shows your financial ability to buy goods as per the signed contract/agreement.
We have decades of trading experience and know the challenges which importers & exporters face frequently. Thus, we know how hard it is to get buyer's credentials for large quantity of merchandise trade. For this reason, we are here as a direct provider. Get Letter of Comfort – Bank Comfort Letter (MT799) to grow your business with our effective solutions. Furthermore, our Trade Finance Services are available at very competitive rates and terms.