Bank Guarantee Procedure
We, Bronze Wing Trading L.L.C. can assist you in your commercial transactions by providing Bank Guarantee – BG – MT760. This will help you to achieve your business goals.
Below is the easy process to obtain a BG from us:
In the first place, the client will submit the important details of their requirements to Bronze Wing Trading. The documents will also include the signed copy of pro-forma invoice or sales & purchase agreement/contract of their trade deal or project.
BWT will assess the commercial transaction that is between buyer & seller or contractors. Thereupon, will update the client about the acceptance or rejection of their BG request.
If the BG request is accepted, then the client will have to sign a service agreement with us. After signing the service agreement and receiving the admin charges, we will initiate the work on their transaction of BG.
Once everything is final, we will ask the client to provide some related documents. Moreover, they also will have to pay the charges for the issuance of BG.
Once we receive all the documents and issuance fee charges. We will then promptly proceed with one of our banks to issue the BG.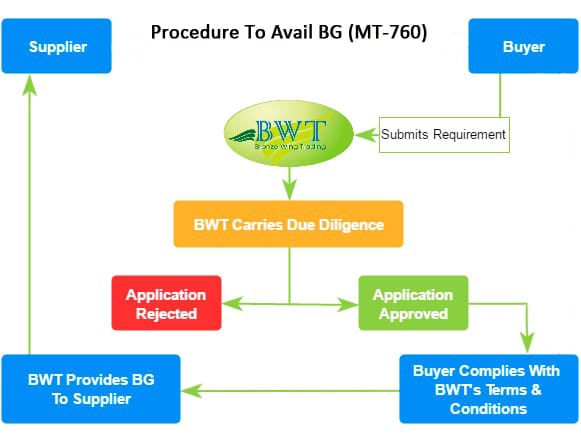 BG MT760 Process on Video
Bank Guarantee – BG – MT760 Information
BG or MT760 is an irrevocable commitment issued by a bank on behalf of their customer. Whereas they have entered into a contract to buy goods or perform their project. BG is a promise from buyer to meet all financial obligations to the supplier in the event of default. In other words, a BG is an undertaking of a bank on behalf of its customer.
Furthermore, BG often helps firms conduct their business with parties they would never get the chance to deal with. Many suppliers will often choose to do business with customers that have a BG because it eliminates the fiscal risk. BG reduces their fear of not receiving the proper payment for the goods that they are selling.
Bank Guarantees are issued for a variety of purposes such as;
Improve the credit ratings for issuers of industrial growth, revenue bonds and commercial papers.
Provide backup facilities for loans granted by third parties.
Assure performance under construction and employment contracts.
Ensure the account party satisfies financial obligations payable to major suppliers.
Parties Involve in the BG MT760:
There are three parties involved:
Guarantor: it's the financial institution that takes the obligation for the payments of funds in the case of a default by the contractor or buyer.
The Applicant: It could either be a buyer of goods or services or a contractor who is hired to fulfill a contract.
Beneficiary: It could be a seller of goods and services or a company who needs a contractor.
Types of Bank Guarantee:
Performance Bond – Performance Guarantee (PB/PG)
Advance Payment Guarantee – APG
Tender Bid – Tender Bond (TBG)
We Bronze Wing Trading are Bank Guarantee providers (BG provider) i.e., an irrevocable commitment on behalf of our customers to meet all their financial obligations to the supplier in the event of default.
With our decades of expertise in financial instruments, we can assure that you are in the right place. We are a one-stop solution for all your financial needs.