Standby Letter of Credit Procedure
Being a direct provider, we can support your imports and exports by providing Standby Letter of Credit – SBLC – MT760 on behalf of importer and in favor of the exporter to conclude your trade deals.
Below is the quick procedure to get Standby LC from Bronze Wing Trading:
At first, importer / purchaser will submit their SBLC request to Bronze Wing Trading. They should provide buy and sell agreement or pro-forma offer of their trade deal accordingly.
BWT will review the commercial transaction between Purchaser and seller. After careful study then will inform the Purchaser about our consent or refusal of their MT760 request.
After the MT 760 request acceptance, we will draft a service agreement between client and us consequently. Thus, the client will be informed about the admin charges to start work on their Standby LC transaction.
Then the Purchaser will provide required documents and pay the MT 760 issuance fee charges.
BWT will act instantly and provide Standby LC from their bank account with European Bank. This MT 760 will be on behalf of Purchaser and in favor of their seller to conclude their trade deal.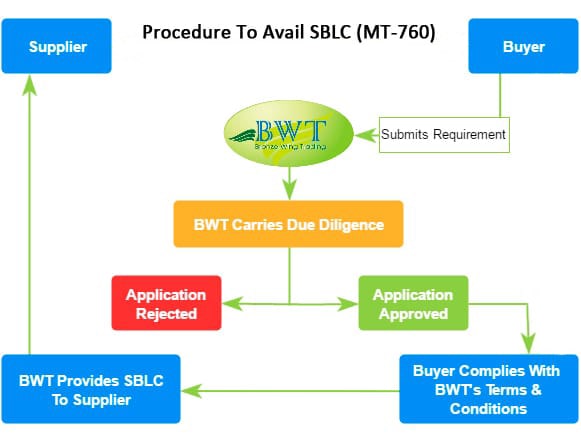 Standby LC Procedure on Video
Stand by Letter of Credit (SBLC) Information
The Stand by Letter of Credit also known as Standby LC, SBLC or MT760. Standby LC is a payment guarantee provided from a bank to their client. It is also a guarantee which needs to pay upon first demand without any protest or defense. It's use as "payment of last resort" if the client fails to oblige with the Terms and Conditions of the signed Agreement.
Standby Letters of Credit proves the buyer's credit worth and payment strength. Moreover, it provides a complete security of not making any payment loss. Therefore, it is a preferable financial instrument by traders and is most reliable in business transactions.
Standby LC is often used in local and international trade transactions for buying goods. MT760 can also be used as Collateral for Credit Enhancement. Thus, it is ideal for companies planning to expand their business but without giving up their equity. Hence, it improves company's cash flow. Also, it allows companies to use their funds for alternate purposes before payments become due.
Parties involve in Stand by Letter of Credit:
1. Applicant:
The applicant means a commercial company who is requesting their bank an MT 760 guarantee. But they should have enough cash or credit facility available in their bank account to qualify their request. Further, the bank will debit applicant's account in terms of instrument's commission, processing fee and swift charges.
2. Issuing Bank:
The issuing bank is a bank that will issue the SBLC – MT760 on behalf of their client as per their agreement with them.
3. Beneficiary:
The beneficiary is a party in whose favor the MT 760 is issued.
4. Advising Bank:
The advising bank is, in fact, a beneficiary's bank. This is the bank where the beneficiary company will receive their Standby Letters of Credit.
Advantages of Standby LC
It certainly effects on seller's financial liquidity.
It is a most secure way to cover the financial risk of the seller while giving the credit to their clients.
By this financial instrument, the seller gets a full guarantee of their payment once they comply the terms of SBLC.
It also provides the confidence to the seller, if in case of any sudden bankruptcy to their client.
The seller can draw down the cash funding by pledging their MT 760 guarantee from their bank.
Can Stand by Letter of Credit be Transferable?
Standby LC can be transferable subject to its terms. This is a question that most of the clients ask to their bank before applying for the MT760. Other financial instruments like cheque, promissory note etc. can be transfer or assign in good faith of business and it has become a common practice also. Like other financial instruments, MT 760 can be transferred in favor of a second beneficiary only. However, it should be with the written instruction by the first beneficiary. And at the same time, with the consent of the issuing bank.
Being a SBLC provider, our experts will structure Standby LC to meet your business needs. Which surely will help you to protect your interests to the extent in every possible circumstance.
Bronze Wing Trading L.L.C. has been providing Standby Letter of Credit – SBLC – MT760 on behalf of buyers to fulfill their contractual commitment towards the suppliers.