Tender Bid – Tender Bond Procedure
Bronze Wing Trading provide Tender Bid or Tender Bond on behalf of tenderer and in favor of the tenderee. This Bid Bond is a mandatory document while submitting the tender. It helps the tenderer to avail worthwhile contracts from the importers or developers.
Following are the steps to obtain TBG from BWT:
In the first place, Seller / Contractor shall provide their Bond requirement to BWT. Together with the tender documents which offer their best quote of the subject products. Or a quotation to complete the project within the set time-limit.
After receiving the above tender document copies, BWT will assess the client's transaction.
As soon as the Bid application is approved. BWT will prepare a service agreement and send it to the client for signature. As well, will also update the client about the admin charges to enable us to start work on their TBG request.
After both parties signs the service agreement and the client pays the admin charges. BWT will start work on their TBG transaction and will structure it as per their need.
Once BWT receives the TBG issuance fee charges and related documents. Then will act promptly and instruct our bank to issue the required Bid Bond.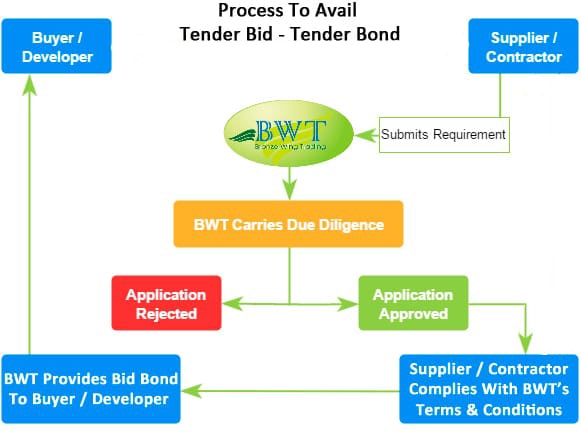 Tender Bond Procedure on Video
Tender Bid Information
TBG is useful when a buyer or developer is obtaining tender for a large commodity contract or construction of a project. The buyer / developer need a bond as security against the risk of the successful bidder who may fail to enter into the contract as per tender terms.
TBG is important if you want your company to become competitive in construction industry. Particularly, almost all project owners and developers will need a bond from you before you can bid on their projects.
If you want to get awarded worthwhile contracts by the importers then you need to provide them bid bond being your financial obligation. In case, if you win in your bid then you will comply your contractual obligation. We can provide such guarantees to bid different contracts in construction industry and as well for supplying huge commodities.
Parties involve in Bid Bond
There are three parties involve with a bid bond guarantee. First, it's the contractor who comes up with a bid bond. Second, it's the project owner who needs the guarantee. Lastly, it's the issuing bank that will evaluate the credit rating of the contractor. And issue a tender bond in favor of the project owner.
If you want to get juicy contracts from importers or principal developers to ensure that buyers or project owners will trust your company. Then you need to secure a Tender Bid, Tender Bond or Bid Bond. You can get such TBG from Bronze Wing Trading L.L.C very easily as we are the direct provider.
Types of Bank Guarantee:
Performance Bond – Performance Guarantee (PB/PG)