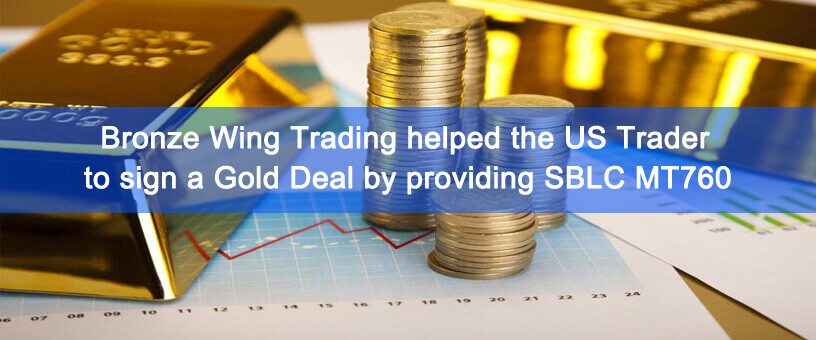 Gold prices around the World have decreased swiftly due to unstable market conditions in the last couple of years. Hence, this attracts investors looking for trading openings. Also, many investors decided to buy Gold as a way of spreading their investments. While they utilize Standby LC (SBLC MT760) to purchase Gold Bars from Canada.
The Challenge: Required SBLC MT760 To Import Gold Bars
A US company wanted to purchase Gold bars from Canada; but they faced problems to finalize their deal, due to lack of cash flow. Further, the supplier demanded the US trader to provide SBLC or BCL MT799 to prove their financial means. Since the offer seemed to be the best one, the trader decided to arrange the financial instruments as per the seller's demand.
As the first effort, they tried to approach their banks to avail SBLC MT760 from their bank. But the bank requested them to provide some guarantees and cash margin to obtain SBLC MT760 on their behalf. Since the buyer was unable to meet the bank's demand, they didn't qualify to avail such SBLC from their bank.
The Solution: SBLC MT760 Provided by BWT
Then, they contacted their financial advisor to find a solution to their problem. As he had a wonderful experience working with us earlier; he also concluded the same kind of transactions with us earlier; he suggested the US firm contact BWT, SBLC Providers in Dubai. After getting a referral from the advisor, the buyer contacted us with their SBLC request. 
Further, we requested the buyer to provide basic details of their trade deal. Accordingly, they provided the SPA of their deal to enable us to process their Standby LC request. After receiving the service charges & completing all banking norms, we promptly opened the SBLC on behalf of the buyer. Also, this Standby LC was issued to the supplier's bank account via Swift MT760. 
Result: The Company Imported Gold Bars 
By providing Standby LC in favor of their supplier, the US buyer procured the Gold bars from the supplier. The Gold received at the agreed refinery. Further, the refinery issued an assay report after examining the Gold commodity. Also, the assay report sets the Gold value and its purity.  After receiving the assay report, the buyer paid the proceeds of the goods to the seller to get the ownership of the Gold Bars. 
The buyer received the ownership of the Gold and then, they sold it to their buyers. Finally, they made a good amount of profit. The buyer praised us for our support in issuing SBLC MT760 for their trade deal.