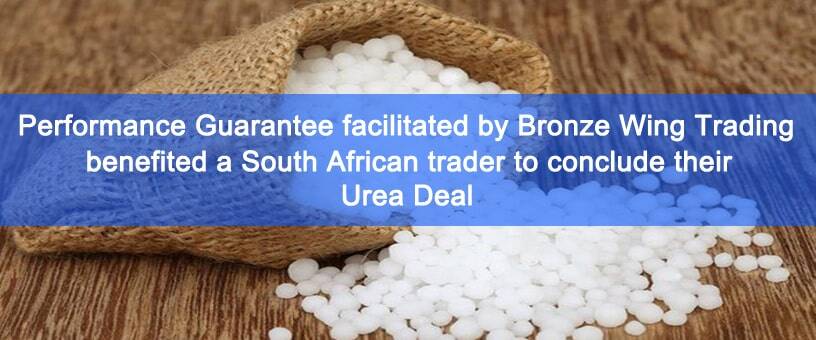 A South African trader who supply Urea globally got a contract from different buyers to supply Urea. As per global trade rules and to secure their trade deal, each buyer demands Performance Guarantee from them. Since the offer seems to be a worthy one, the seller decided to arrange MT760 to achieve these Urea contracts.
Problem: Require Performance Guarantee for Urea Deals
A trader from South Africa received an offer to supply urea bags to the local buyers. As the seller has enough stock of urea, they agreed to this contract. But all the buyers asked Performance Guarantee from the seller to secure their trade from fiscal risk.  The seller agreed to the demands of the buyers and started looking for options to avail Performance Bond. 
At first, the seller asked their bank to provide MT760 against all the Urea contracts. Since they didn't had enough cash flow and didn't have working capital to provide as cash margin, they failed to fall within the norms. So, the bank refused to provide them such a bond. But the seller didn't lose their hope. They searched for other options to avail MT760. 
Solution: Contacted BWT to Avail PB MT760
While looking for options to avail MT760, he found a new hint. i.e. to get help from trade finance providers. After doing a lot of research to find the best one, he picked the top 5 trusted Performance Bond providers; then, he finally picked "BWT" as the best one. 
Further, the seller gone through our website and read all the info – about our process, products we offer and  also our latest transactions etc..  Also, they found that we provide trade finance without cash margin. So, without wasting time, they submitted their request to us. Since they were very keen to avail our services; they also called us via phone to discuss about their trade deal. 
We asked them to sent us the SPA of their trade deal and other documents. Further, we did a detailed study on their trade deal. And then, we approved their request for PB MT760. After receipt of all documents and issuance fee, we issued the PB MT760 from our bank account in favor of buyers.
Result: Urea Deal Concluded with Great Success 
Once all the buyers received the bond in their bank account, they issued LC  in favor of the seller as per the terms of signed SPA to import Urea. The seller on time shipped Urea at the buyer's final port as per the agreed time frame. The seller was thankful for the timely help done by BWT in issuing the bond as per their contract terms. They promised to come back for their future trade deals.